I've been sitting here demo-ing this thing against the UAD rev E for a good little while. I think its hilarious how the attack and release are backwards on the Overloud lol.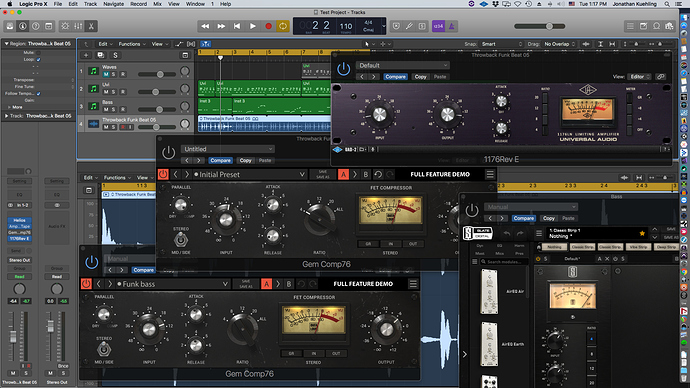 It took some extensive listening on a bunch of different stuff to really compare them. The meters and the knob positions are obviously different so you can't just set attack and release at 12 and give them a whirl.
So the overloud is faster. When the attack and release are both set all the way fast on a 4:1 ratio, the attack is quicker than the UAD on the same settings. It seems like the overloud has a hyped top, the UAD has a heavily colored crunch in the mid range around 1k once the compression hits a certain peak, but it doesn't get in the way if you're aware of it. I would say the overloud has a tendency to be really smooth for an 1176 clone. The release is probably biggest difference between the two. And most evident when you squeeze/tighten/choke the back end of a transient on a drum hit.
Overall, I think its brighter, smoother, and cleaner than the UAD version. I feel its on a similar quality level with the UAD version, and that says a lot…I hold UAD very high regard when it comes to 1176's. I would probably reach for it over the UAD for a delicate vocal or a transparent piano. And the UAD when you need some real thick grit and muscle. On a gentle intimate female vocal for example, it can be really tough to draw out the detail without faster attack and release speeds damaging the source. So I think the Overloud (at least for me) could become my go-to if I want a compressor that behaves like FET compressor but has the transparency of a high end VCA compressor. I'm really really impressed with this thing, and @AaronNarace, I'm glad you mentioned it in the other thread!