Hi friends, after quite an eventful past year or so, I finally have something to share again. To get myself back in the swing of things (more or less), I'm doing a cover, another tune from one of my major heroes, John Hiatt, called Long Time Comin', off his 2014 release Terms of My Surrender. Bit of a backstory with this one, please bear with me…
Some of you old-timers may recall my writing about my beloved brother-in-law Bob, pro musician and recordist, with whom I had a lifelong musical partnership. I posted this photo of us in my intro post back on RR, wearing t-shirts I'd had made for us: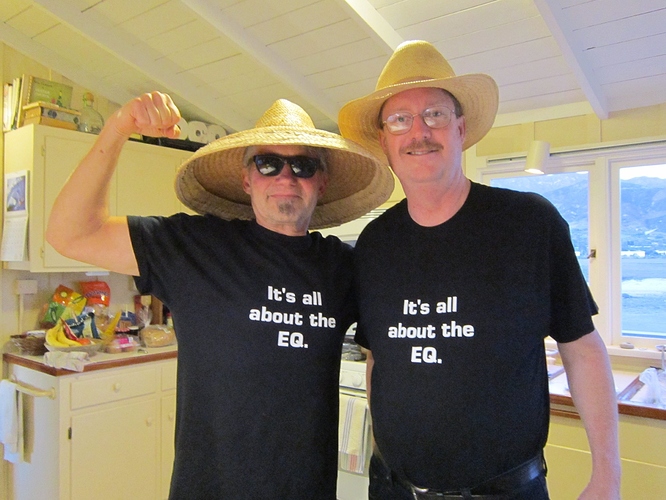 Tragically, Bob was struck down by early-onset vascular dementia in early 2017, and it robbed him of his personality and self so very swiftly-- by mid-17 he was unable to make all but the most basic decisions, and that ability didn't last long… he died this past February, and in some ways it was a mercy that it happened so fast. But it was a brutal experience for our family, of which he was a pillar.
We all came together in April for a celebration of his life. It turned into a four-hour love-a-thon, with tears, laughter, and a ton of music. As part of the eulogy that my sister Juli asked me to deliver (I wore my EQ t-shirt under my sportcoat), I wrapped up with a rendition of this song playing Bob's '70s vintage Martin D-28, modifying the lyrics slightly here and there to make it even more directly applicable to my feelings. (I know, blasphemy! Altering the lyrics of a Hiatt tune??)
So to get back in gear, I decided to do a full studio version to give to my sister and to Bob's brother Joe, another music lover. I recorded the tracks weeks ago, did all the basic stuff to them, and now finally sat down to do a proper mix, assuming I still know how! It turns out Juli will be visiting us for the Thanksgiving week, a little over a month from now, so that sparked me to get off the dime and get this thing ready to go. My first Virginia mix.

Thanks for listening, Dave
Initial posting:

V2 after first round of comments:

V3 after adjusting drum compression: