Hi folks, I'm continuing to benefit from the twice-weekly livestreams James McMurtry has been doing, each one a masterclass in acoustic guitar pickin'. For so many years, I'd been resigned to likely never being able to learn so many of his tunes, but being able to play those back and see every move and determine every alt tuning has opened the door wide.
This one is from his third album in the mid-90s, Where'd You Hide The Body? titled Down Across the Delaware, with guitar tuned to double drop D (DADGBD) and capo on II. Lyrics below. I have long thought of the verse that begins "We get along in a manner of speaking" is a sort of musical equivalent to the scene in Citizen Kane that shows a husband and wife growing apart in a few seconds of dialog-free dissolves, depicting their breakfast table becoming larger and more ornate as they grew wealthy over the years, the physical distance mirrored in their facial expressions. Such economy of visual language! That verse does the same thing, captures an entire arc of a relationships in so few words.
Thanks for listening!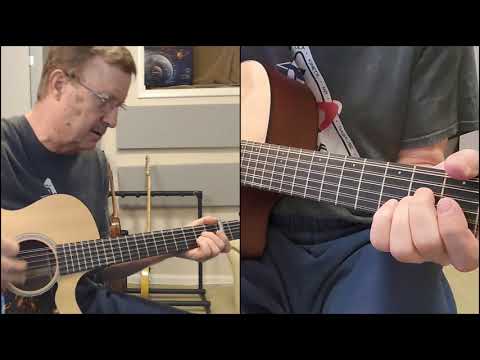 Bills are paid but it makes no difference
To the gods that seem to rule our home
Heat shut off for no known reason
This old building's got a mind of its own
I can tell your footsteps on the stairs from three flights up
I know the jingling of your keys
You won't hear no and you don't look back and you can't slow down
These days you don't have much to say to me.
In another town what would fetch a good living
Here is barely hand to mouth
So I'm going out and get a U-Haul trailer
Drag it down the turnpike south
Where the Garden State gives way to the real world
Falls away in the rearview mirror
I'll mend my wounds and wait out the winter
Down across the Delaware
We get along in a manner of speaking
We barely have to speak at all
Small talk over take-out pizza
Silently passing in the hall
Post-It notes… and opposite shifts
Once in a blue moon we'll wake up in the same room
Thankful for these thy many gifts
We run by night, we live it and breathe it
We're the best of the best and I just don't care
I'll mend my wounds and wait out the winter
Down across the Delaware
And I'll see you in the spring
When the chill don't cut so deep
I'll be back around to give this town another crack at me.
I heard a voice today I swore I knew
From somewhere down in the southern sticks
I turned around to see some ragged stranger
Bummin change on the uptown six
And I froze like a stone
Could I ever get that low?
Turned my face to the window
There by the grace of God I go
Where the Garden State gives way to the real world
Falls away in the rearview mirror
I'll mend my wounds and wait out the winter
Down across the Delaware