Chris said the Waves all-in-one CLA stuff was designed to sound good with the faders at zero. It just occurred to me, the reason why they sometimes don't do shit at unity, is because of the INPUT level. Sometimes the same plugin will act very different based on how much income it sees. The Boz Panther is a great example of a plugin that doesn't give a shit. The CLA does.
So I took a Ukulele that was double tracked in stereo, warmed it up with a UAD 1073 preamp just for the saturation, then chased it with a CLA unplugged. Nothing…so instead of ramping up all the faders, I just ramped up the master input, and moolah! Everything came alive. Then I tried the same thing with the CLA vocals plugin.
I hadn't been using these much, and if I did, they usually had 4 of the 6 faders de-activated. By the way, then fader still works when the yellow light is off. So to turn the channel/effect off completely, you have to mute it AND drag the fader all the way down.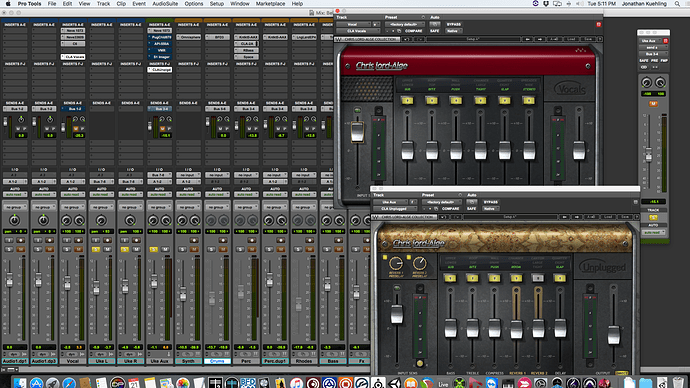 No one knows whats going on under the hood here. But we do know that the faders don't work like they do on a mixer. So on the compressor channel, when you move the fader, you're changing like 10 things. The ratio, the threshold, the input, the parallel wet/dry, the attack, release…everything changes as you move that fader up and down. Interesting stuff.