On my way to Charleston South Carolina for a video game developer networking meet up, I decided to take a detour by the friendly local Guitar Center. Being about 45 min early, and directly en-route, what did I have to loose by quickly perusing the selection of used high end amps. Right?
Lo and behold, there sat a neglected BadCat Black Cat that had just been lowered from $1400 to $1100. And next to it, a PRS Archon for $950, and a purple Marshall 2266 for $750. All stellar amps, and not a bad price right? First order a business is find a cab. I asked the nearest sales guy what cabs they had with greenbacks. When he asked me why the color of the back of the cab made difference, I remembered whom I was speaking with, and asked no further questions.
…until checkout time came. That poor abused black cat, had a broken impedance selector knob. So I just took a guess, and figured that it wasn't going to hurt it to have impedance mismatched if I just kept the master fairly low. Well, come to find out the master volume knob was broken. It spun around in circles and didn't do anything. I thought…well maybe it has a push-pull master volume like my Budda Superdrive and my Matchless Phoenix. I pulled it (which is usually how you engage the master volume). Nope. Didn't work. Maybe the master volume was just a little stiff. So I pulled it harder, and the knob came off. Like…all the way off. So I said what the hell, and just cranked the amp all the wide open (much to the dismay of everyone else in the store). Within minutes, "Hey, you gotta turn that down"…to which I replied "Hey, this master volume is broken."
Then came the best part. Smoke started coming out the back of the amp. I cut the power immediately. Giving everything wrong with that amp, I still offered them $700 for it, knowing that the worst possible damage to that entire amp could not possibly exceed $250. As the smell of burning electrical wire still lingered in the air, that dumbshit manager still had the nerve to tell me they couldn't go below $900.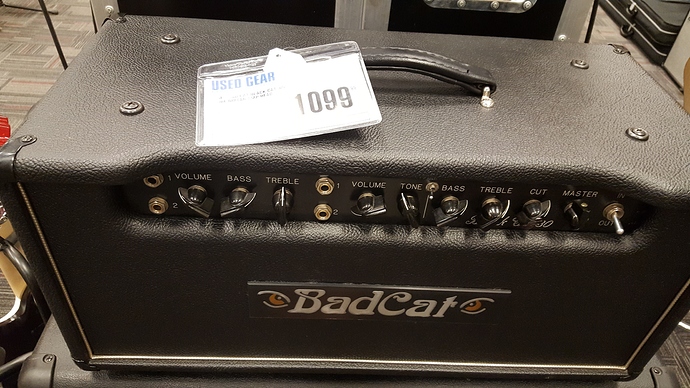 So my word of advice, if you EVER buy used gear from Guitar Center, make sure you have a means of returning it if it doesn't work. And before you pass on their performance guarantee, keep one thing in mind. Two years ago, I salvaged about $10,000 in monitors, converters, interfaces, keyboards and amps from the studio fire. Wanna guess who I sold it to?
So…my GC is my favorite place to shop for used music gear? Because there is nothing more entertaining than asking what kind of hardware is available, and they tell me I can check with Lowes. Or to tell them I'm gonna need a driver with that, then to be asked where I need to go. Just amazing.
Happy gear hunting.