Not sure if this is the right area of the forum, but it's the one I felt fit best.
TL:DR - Song order still seems to matter a lot these days, despite digital libraries and streaming/shuffle options. Image below.
So, I am on the tail end of finishing another EP (my first under the name Alien Lard, in which I posted the first song That's What They Said About 'Nam - need some tips please for bashing).
So, I was wondering what, as song writers and EP/Album makers, you consider when considering song order. Pre-streaming and digital library with access to shuffle, order was paramount and we are probably all aware that the killer songs aimed at hooking new fans were in those first three songs.
However, many people, myself included to an extent, choose which songs they want to hear, or listen to their collection or playlists in shuffle mode. I almost exclusively listen to Bandcamp artists I have found and own over 220 albums from that service. When I buy a new batch of albums/EPs, I tend to listen to them regularly in order. Once they become part of my musical furniture, I usually listen to my entire collection on shuffle.
There's a few thing to consider with that, however.
I've already listened to those albums from start to finish several times before I buy them. To determine if they make it to my wishlist for future purchasing or not, the majority of the project needs to win me over, not just one song, HOWEVER, as I scan each new release, the artist has nominated a "highlighted" song. That song is the first thing I hear and I either explore more or move on to the next album. So, in that case, it wouldn't matter if it was the first song or the thirteenth.

I know I am not like most people in that I actively look for new music and am willing to wade through crap to find gold (I listen/check out about 200 releases a week and have done for years - keep in mind a "listen" may be three seconds!)

Finally, the Bandcamp app allows me to shuffle my collection. The Web based browser does not so sometimes my hands are tied if I am not on the PC that has the downloaded versions on the hard drive and in a media player playlist.
Normally, I'd say I don't care what the order is when I release a project, BUT, having looked at play stats on projects I have released so far (my band, my personal ones and even a fundraising project I released through the school I work at) there is an obvious and distinct pattern that the first songs get played a heap and they tail off considerably after that.
Consider my stats for this album below. This was a Christmas rap album I released late last year with my school with 9 classes. I expected plays to be even, as there were approximately the same number of students in each class and therefore even if some students favoured their own song more than others, you'd think there'd be a fairly even spread. I DID consider song order for the first two songs for any NON-school community members who may have stumbled across it, but after that it was more about spreading the year levels across the album evenly.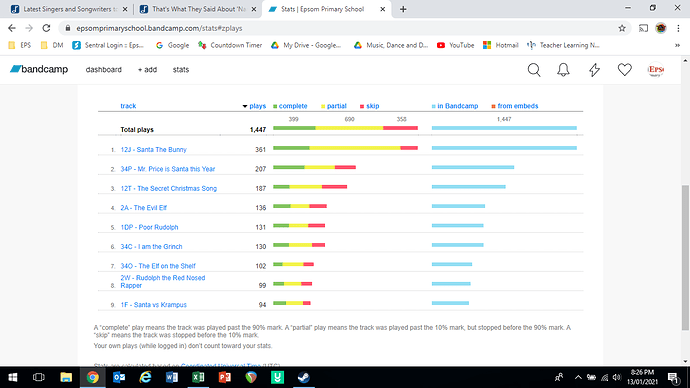 You don't need to be a mathematician to see the pattern and suggest that song order still matters. This is replicated across all my releases (except with FAR less plays!).
So, are you still putting a decent amount of consideration into your project's track order? If so, what's your general strategy?
Strangely, I have the issues where I'd argue my strongest musical song in this Alien Lard project will likely be the 5th and final track. I love albums that have a gem of a final track that's usually a little more rewarding to cap off a project. Also, I wanted 'Nam to open up and set the trend and the 2nd track flows naturally after it. But my stats tell me otherwise…
Thoughts?