Torpedo Captor X - A review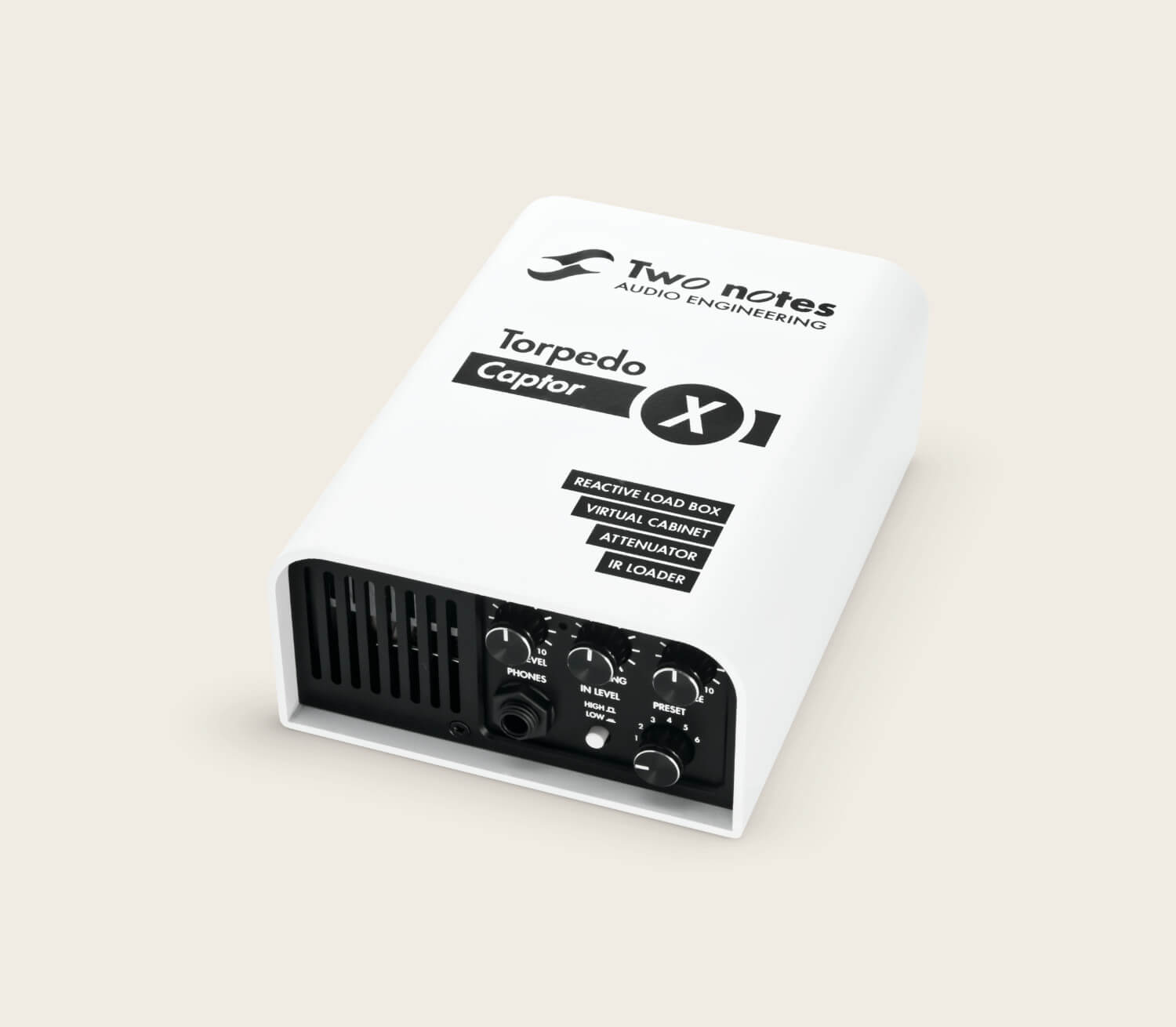 What is it?
Two Notes describes the Captor X as: "The Torpedo Captor X is a compact reactive load box, tube amp attenuator, miked cab simulator (DynIR Technology), Dual-IR loader and stereo expander for home, live and studio use."
What to compare it to?
Boss WAZA
Universal Audio OX
PROS:
I have been using the Captor X for about 6 months now and have found it to be fantastic for "noiseless" (more on that later) utilization of my favorite amp and pedals without having to haul and mic any cabs, etc.

Great for IEM and silent/quiet stage gigs. It truly shined on several live gigs that I've played at with this unit. Honestly experienced my best guitar tone ever over in-ear monitors with this box. It is so nice to be able to just run my gear direct to FOH without the concern of what mics, placement, etc. I was able to get the same tone at the gigs that I was getting at home. I had never experienced that before.

Several built-in room/space options. This felt very similar to using my amp with my cab in a normal room. I was more impressed with the overall feel than I expected. It felt very natural and 3D. There are other options built-in, like plate, spring, concert hall, etc, but I preferred having the room/studio space as it felt "right" to me.

Plenty of cab IR's included. I was fairly impressed with the selection of cabs that were included (including bass cabs). I found it easy to hit the ground running with this box. I did end up purchasing a couple additional packs from Two Notes' website just to get a few cabs that I was well acquainted with. I will say, although there is a plethora of free, quality speaker cab IR's out there (which this box will accept), I thought it was worth the price to buy some of the Two Notes "DynIR" cabs. This gives you full control of up to 2 mics at a time of the 8-10 included microphones (ie, 57, 67, 414, 251, 121 ribbon, 7B, etc). The mic models vary with each cab, but I am able to adjust mic distance, front/back of cab, axis, polarity, etc.

The "Torpedo Remote" software/app for your phone, tablet, pc/mac is very user friendly and quite intuitive in my opinion. No complaints here!


The price. After listening to some audio samples from other reviews, this was a no-brainer to me. I can buy 2 of these boxes for what the similar competition wants for their boxes! As it is with a lot of recording and music gear, and although I haven't had my hands on the OX box (for example), I could not hear a difference that warranted twice the price.
CONS:
The cooling fan. Although this is a "noiseless" as a recording/live solution, there IS a cooling fan that will kick on when you are playing at louder volume through a high wattage amp. This is not unexpected at all, but I felt like there has been a lot of advancement in fan and cooling solutions in recent years and it would be nice if the fan was quieter. Minor gripe.

The attenuator. Should you choose to route this back through your actual cab, just know that the volume attenuation in this box is really lacking. Personally, I thought this was a really big oversight by Two Notes to limit this to a 3 position switch rather than a volume pot.
THE FINAL VERDICT
I love this box. If it were lost/stolen, I would definitely get another one. I've used this on some live gigs and also did some session tracks with it and it worked perfectly in both environments for what I was trying to achieve. If you're looking for some new tones, changing your speaker cab can make a huge difference and having a box like this gives you access to a whole library of them.
Well done Two Notes!
Indie Recording Depot SCORE
9/10