Great catchy song, really slick, cool lyrics, just enough little twists to sidestep cliches and nice vocal intimacy to draw the listener in… Feels like a winner! Great choice for a single.
Ooh awesome… love it!
Amazing Andrew!
Everything Emma said…
I wish you best of luck!
Everything George said. ha ha Wow some really great intro sounds. This is perfect. Really. That bass has some flavor. The axe ear candy is off the charts. You use a lot of delay or reverb, I have to try that. I always thought it cluttered the mix. WRONG. Love the minor emphasis. Heah…i listened to all of it. third time so far. Nobody is going to find anything wrong here. Big congrats…repetitive bowing upon exit
Cool intro.
Love the stops in that pre chorus. What's that tinkly sound in the chorus? You have a lot of cool little flavours in there. How much of this is "real" instruments? Shakers?
Your mixing never ceases to astound me and I both love and envy it equally


I love how the song teases around the vocal and how the vocal gives it the sense of direction and consistency. Seems to fit the theme of the song too, which is clever!
Love it mate. Yell out when it's all done!!
Well, as expected, you've outdone it again.
Whenever I listen to your music I get at least two or three "How did he do that" moments and a couple of ear candy hits too.
It always seems that you have everything worked out to perfection on the front end, where I should be taking more time. Your arrangements and choices on the details of guitar tones, vocal harmonies, etc. always seem so precise; very little impression of the "happy accident" approach.
Really nice job, your bar keeps getting higher.
Thanks Emma - glad you like it!
Thanks George!
Thanks Paul. I tend to use delay more than reverb for guitar sounds. Three times - Wow! Thanks mate!
Thanks Dan!
They are harmonics on the guitar at the 12 fret and 5th fret respectively. Layered under that is some wineglasses played with chopsticks - they're just tucked in there too.
Everything is real (including the strings) except for the Hammond Organ and the Rhodes Piano, which are VSTis. I played the shakers and tambos.
Thanks, but I can't take credit for this mix. It was done for me by Rob Morgan, the guy who runs the Audio Mix Club site. We had a mix comp over there recently where everyone mixed this track and I picked the winning mix. Rob didn't compete, but he wanted to mix the track too, and I was really delighted with his mix.
Thanks Bob - Glad you like it!
This track was written a long time ago (1993!), and I've had a few attempts at recording it. I was never really happy with any of them. It has evolved a bit in terms of instrumentation, and certainly in terms of the vocal harmonies, but the basic arrangement remains pretty much exactly as when I wrote it.
…so yes, not much in the way of happy accidents… I'm sure there were some of those in the intervening 29 years, but I certainly can't remember what they were!
Thanks Bob - I keep trying! Much appreciated - thanks for listening and commenting!
PS: Sorry for not replying sooner or commenting much in a useful way on other people's productions…but I have a good excuse!…
We have been caught in flooding here in Brisbane. Our house was fortunately not inundated, but the water came within 20m (60ft) of our property. We have had no power since lunchtime on Sunday - that's 81hours and counting…so the only music around here at present is acoustic!
Thankfully the floodwaters have now receded, so we are no longer stranded in our homes!
Here is a photo of our street before the floodwaters finally went down: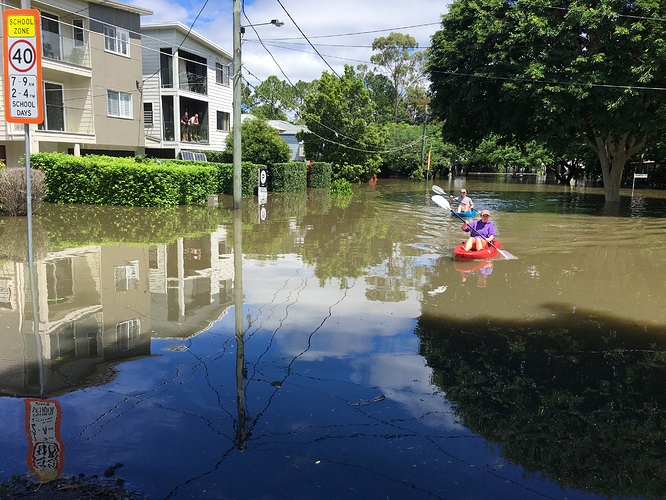 Very sorry to see such difficulty for you @ColdRoomStudio ; seeing things like that really help put my own overblown problems in perspective.
Ooh wondered whether you were caught. Intense covid-land over here…
Thanks Ingo…still no power, but at least we're not isolated anymore…It's kind of like camping at home! Have to look on the bright side!
Oh that's no good! We are just having restrictions lifted tonight but there is still a lot of it around. Please stay safe!
Wow! I just saw the numbers there

…looks like you guys have a way to go to get the vaccination levels up…
Yeah the numbers have been a bit crazy but it's been a different journey to most other countries… we have really high vax rates now and it's almost like a controlled release for the virus… done everything we can so let her rip and let's get on with things. Hardly any deaths overall which is the BIG gain from our challenging controls. The hospitalisation rates are very low. A strange journey that's for sure!
Yeah the news here has been full of the floods and the Russia/Ukrainian thing, so I guess NZ Covid numbers must've run a distant 3rd, because this is honestly the first I have heard,…
I looked up the stats and it said NZ had 78% double vaccinated. I thought that seemed low, because we have 91% here in Qld…
They've followed a similar "let it rip" strategy here in Qld by opening up the borders, but only after we reached 90% double vaccination level.
We're still wearing masks in public places until tonight, though. Overall, it's a pretty cautious strategy, but so far it seems to be paying dividends in terms of low infection rates, hospitalisations and deaths…
Ahh yeah, think the 78% is the whole eligible population number, the national average is 95%.
I wondered if you were affected too. Cannot begin to imagine what that is like. All the best!
Yeah… that was great. I love all the little sonic 'spices' sprinkled in there and the guitar solo was nice and tasty. Goin' to listen again…

Thanks for taking a listen and commenting, Jamieson - much appreciated!
Hi CRS,
Great sounding recording.
Nice lyrics, and the melody is very catchy.
The vocals is excellent!
Thanks for sharing.
Rene
Hi Rene, thanks for your kind comments.