I have a new toy, a large hand drum, I think it's about 500mm diameter. I made it at a workshop, using rawhide (horse) strung across a cedar frame and laced with gut. Being made and stretched by me, with the help of the drum-making tutor, it's a bit gnarly in places but was a wonderful thing to make…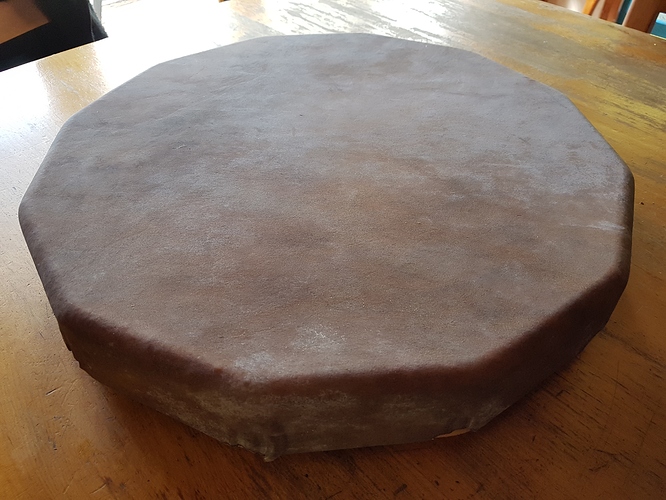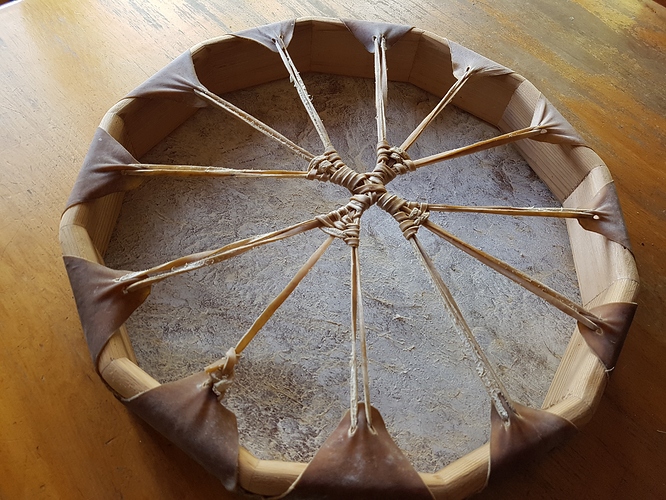 I LOVE the sound of it, a deep resonant ringing boom when I thump it, but helluva challenge to record. My dead-air studio fair RINGS with it… transients abound!!!
Here's just a few plain beats from my studio, no added anything… It's just a tentative beat using the beater in the picture, it's also fun to use hands and fingers.
The tone changes quite a lot depending on where I beat, the horsehide varied quite a bit in thickness and with the colouration I am getting a feel for where the different tones are. It definitely responds to humidity - much better sound when it is dry . Quite a lot more resonance when recorded back to front…


.
Does anyone play one of these or know anything about them?
I love the sound of it and want to learn how to make useful recorded sounds with it.
I'm going to just play with it for a while, I did attempt to use it in my latest bash song but ended up cutting it right back as I need to learn a bunch more. I love the richness of its broad frequency range but I guess I'll need to ruthlessly trim it… maybe it's more fun for a live thing than a recording thing…
Would love some helpful hints/pointers…???