I spent a few hours yesterday testing different mic techniques on my piano. As it turns out, there are so many variables for getting different sounds on a piano. Which mic, where the mic is, which way it's rotated, which polar patern it has, how far spaced the microphones are, etc.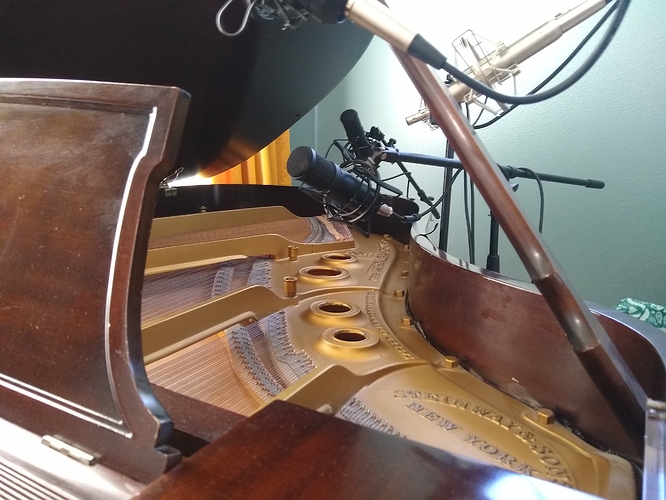 This ended up being my favorite "close" sound.
Same take, just different mic perspective.

My thought is that I want to make a few sample libraries called "Living room piano set" or something. Basically, the idea is that instead of sampling concert grands in a big hall, I want to sample smaller, less perfect pianos from peoples' houses. I love the sound of a nice piano, but sometimes the perfect concert grand doesn't really match the sound that I want in a simple song.
My plan is to make a VI out of this piano as it is now. some strings buzz, some strings are out of tune, the low strings are super dirty. It just sounds like a good home piano. After that I'll get it tuned and maybe even restrung and make a second version.
After I do this one, I'll go sample my wife's aunt's piano. We stopped by her house on the way to yellowstone a couple weeks ago, and she had this awesome bosendorfer from 18 something in great condition.