Will listen to the to the tune later, as I am currently transferring a tune from tape to the Tascam and need to be quiet… but I know the sentiment well…
During my third year at college I just hoped the bus would keep going, past the school, on the ferry to Denmark, then head south…
My original plan was to do four years at "college" and get an engineering exam, but to gain university entrance I only had to complete that third year.
During the summer holiday I realized I could not muster the energy for that fourth year, but instead asked my father if there were any interesting Transatlantic ships I could work on. He had massive contacts in both merchant and military navies. One phone call and 15 minutes later…
"There are two ships, the first leaves in a week and has air conditioning. The second leaves in two weeks and does not have air conditioning…"
Both ships were going to Africa. I have never packed my bags that fast…
Thus the box car sentiment turned out real for me and I did two trips to West Africa - it was very exotic…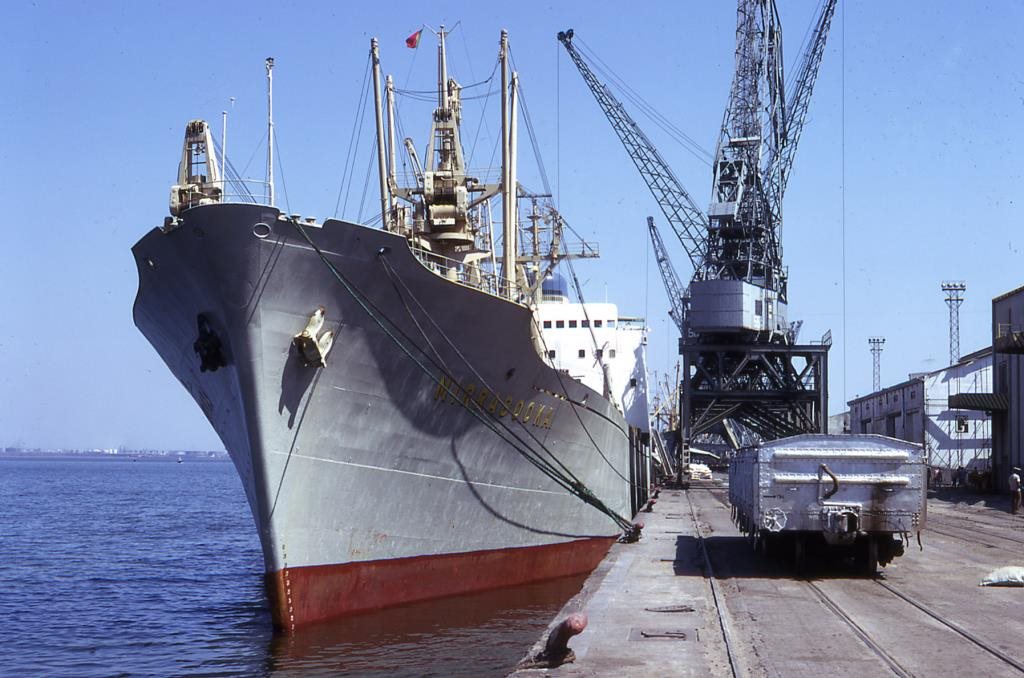 This was lying outside Lagos and waiting to get into port…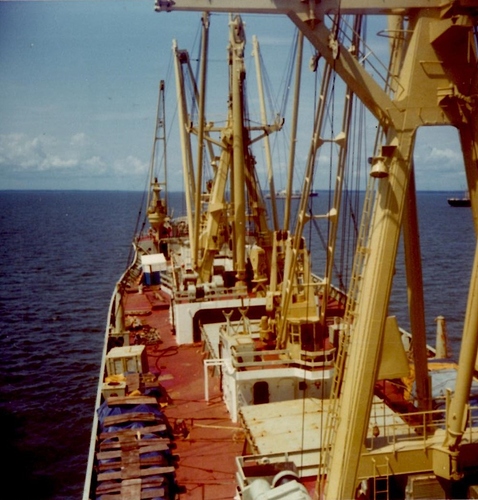 And this was after a day at the office. We had 45 Centigrade in engine room - or 103 F - and after a while you learned not to walk where the fans were overhead, as if felt "too cold…"
Okay - I like the tune… keep working on it…
It's tricky to hear what you sing at times, but that's OK.
I wonder if instead of singing clickety-clack in repeat, if you could not come up with some clever rhyme… even just "down the track?
S
Wow, that is a great story. My family has all been employed by the railroad. I have 25 acres here in this little town and is very close to the railroad terminal. The hobos would get to town, beg for a meal, and then to my property and sleep in their bunkers they had made on previous trips. The holes are still in the ground and I frequently go digging around to find artifacts that were left behind. I find the whole concept very romantic, but I no it was a tough life for them. I remember my Grandmother mentioning feeding them. The song is nothing special, but the travel back in time was. thanks for your contribution
Sincerely
Paul
Love the song Paul - & the sung 'train whistle' - very nice…
One thing that is a bit off-putting is that you're putting swung guitar and bass rhythms over straight hihat rhythms… Now this can be a REALLY cool effect. If you listen to early Chuck Berry and Little Richard, that rhythmic push/pull is all over those cuts.
Of course, usually it comes from the drummer still playing the hats with a little swing, just straighter than the other rhythms in the song. The thing that spoils the effect a bit (IMO) in your track is that little "skip" beat on the snare, is played right on the straight up-beat, instead of swung more with the guitars and bass - to my ears, it takes me out of the moment and sounds like a rhythmic "stumble".
Unfortunately, swing is something that is sorely missing from modern pop/rock music IMO. About the only modern genre that still has a large element of swing these days is Hip Hop. I had a listen to the new Deep Purple album recently - it was SO refreshing to hear a band really swing - Ian Paice is an extraordinary drummer in that respect… but I digress…
Anyhow… thanks for bringing back the swing… and please, please, please… finish these great ideas into fully-formed songs!
Oooh yay… this is a GREAT VIBE Paul… awesome…
I'm just sneaking in a listen between a long list of chores and really enjoyed it… you have captured such a cool vibe, love it…
What Andrew suggests with the drums sounds excellent advice… you really are a clever songwriter and this song is lovely!
Hi bud Yeah, the train whistle was fun. I kept laughing and had to keep trying it over and over. My wife kept saying "what is that strange noise up there" ha ha
I had to google "off putting"…unpleasant, unappealing, uninviting, unattractive, disagreeable, repellent, offensive, distasteful, unsavory, unpalatable, unappetizing, objectionable, nasty, disgusting…I get it
I just grabbed a drum pattern and started playing. It was one right in studio one. Actually I have two playing in a few spots…not sure why. I will have to get in there and find the problem. I might just use EZ drummer instead. I just get impatient on how long it takes to load each time. the beauty of this place is the ears that are trained like yours to pick up on this stuff. I will try and polish this to the best of MY ability.
I changed the drum track…Thanks much
Sincerely
Paul
Hi Emma You make lists of your chores? I have a daily to-do list that I check off each morning. Sick aren't we??
There are so many things that I haven't done with different lame excuses. A little too old now. Feaker Leaker.
Recently I did some engine repair and welding on one of the motorized section rail cars here. I then took it for a long ride down the tracks. The clickety clickety clickety clack is quite mesmerizing:)
glad you liked the demo. Now for the reapairs. ha ha
Good to hear from you
Sincerely
Paul
Cool track! Drums better on the second one I think, not off-putting now

The ending is kind of abrupt, maybe add one more little vocal effect there to tie it all up?
The rail collection sounds really interesting, do you have any pics or video?
Hi Glad you liked the track. I have to check out that abrupt ending. I am also going to redo those guitar tracks with either my PRS or Gibson. I can't take the out of tune thing. I also almost played the same thing on both sides for some reason.
I didn't quite understand…The rail collection sounds really interesting, do you have any pics or video?
I was wondering if you were referring to the artifacts I dug up. I gave them to my cousin who is a collector?
Now I have to copy these tracks and bring them to the studio to use the better guitar. ha ha Thanks for listening
Sincerelly
Paul
Hi Mr. F, well you mentioned fixing some rail equipment, perhaps it's where you work? I thought maybe you were a member of a rail museum or such.
Must have been the Gibson, can't picture a PRS being out of tune.

He's probably a welding vigilante. Runs out at the middle of night to do a bit of spot welding and machine fixing.
The mature way of doing tagging?