So what was your first guitar? Let's hear the the story! Do you still have it? If so, please share

My first guitar was a Yamaha RGZ 321. I'll dig up a picture I found of the same color, etc.
I was wrapping up high school and wanted to be as cool as my buddy that always had the girls. lol. I found this one at a local guitar shop and put it on layaway. I put every single spare dollar I could dig up to pay that off as quick as possible and got to playing immediately. That guitar and a little Crate solid state amp with (maybe?) an 8" speaker. Those were the days. I regret ever selling that thing! I don't think I'd play it much, but to think back on everything I learned early on. Would've been cool to hand it down to one of my kids at least.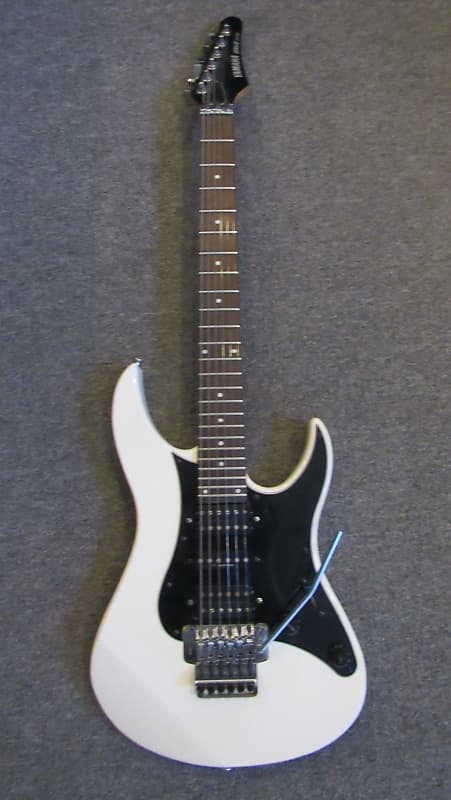 Hi Brian! You're alive! Good to hear from you, mate!
Nice! Yammies are great!.. you were spoiled!..
Here's my story - Parts 1&2 are somehow reversed in order, but you'll get the idea… I put it on my Wordpress page:
No doubt! It's crazy in hindsight that I chose a yamaha. I really didn't have a clue at that point. I always recommend them to new players now!
Hi Mr Holster I was playing pinball in a local restaurant in my little town of 100 in 1965. I caught motion out of the corner of my eye, and as i glanced toward the road, the silver ball went screaming past my flippers and I lost a nickle. It was a hitch hiker with an uncased acoustic on his back. I waved, he waved back then started across the street toward me. He said he was broke and hungry and said he would sell his Fender guitar for $20 I agreed and went screaming home to get a loan from my paper delivery money. I presently have it hanging in my house (not there right now) I don't even know the number on it. Never cared. It is missing a couple of strings. Fondest memory was a bachelor party. Bunch of guys drinking and singing around a campfire. A couple girls crashed the party. One gal said she would dance if I would play " good lovin" …and the longer I played the more clothing she would take off. Now good lovin is a lot of fast D G and A. ha ha Anyhow I started losing strings and the momentum slowed. She had taken off only her shorts and was running around in her underwear and had enough. One dude threw her shorts in the fire. She started crying and said what is my mom going to say.I gave her my shorts and said what is my wife going to say and drove her home. I came in the house to my almost new wife and she believed the story. The gals's name was Lylian Clause…true story
My next purchase, I think 1969, was a Gretch country gent. loved that one. Next was a Gibby ES336 in 1972. That one broke in half when our gig trailer left the hitch at 60 MPH on our way to play a wedding reception. (fender twin reverb smashed too) Then a gibby SG…Then a PRS and a es 335 again that is nowhere near as nice as the first.
Now all you need to do is convert that story into a song Mr F

I'd love to see this $20 Fender!!
I bought my first guitar while on a deployment with the US Navy. I got in Hong Kong. It is an electric acoustic Yamaha guitar.
Love that guitar.
I just recently passed it on to good friend who wanted to learn how to play.
Rene
Watkins Rapier 33. My dad gave it to me after a he inherited it from a friend. Also came with a Watkins Copicat (1960s). Bet they'd be worth a few bob together now!
I'd love to see some pictures of some of these!!
My first was some no name strat copy in the early 80s. I cannot for the life of me remember the brand, but it was this kind of baby blue thing, and I both loved it and hated it. It was a guitar, for sure, but I could never make it sound like the people I was listening to. Could never make those single coil pickups sound like a humbucker. It wasn't until my next guitar that I got, I think when I was sixteen or so, a Yamaha RGX model with a bridge humbucker, that I started getting the sounds I wanted. I do wonder sometimes if I would have practiced more at a young age if I had had a different guitar. Probably not, lol.
It was some solid black ibanez thing with 2 humbuckers. I have no clue.
Then I recorded a friend who had an Epiphone les paul. After I heard that thing, I couldn't wait to sell off that Ibanez! Played an Epiphone les paul through most of high school.
My first guitar was a used el Degas. I bought it in Sault Ste Marie ON, canada in 1993 it then went to singapore and back for a few years from 1996 to 2000 and then later moved with me to turkey which is the picture below. In 2005 I passed it on there to a student and he banged away on it for who knows how long. I had a love hate relationship with that guitar. Obviously it was overbuilt considering the abuse it took but it still had a pretty good sound. By the end it played like crap and now learning how to build guitars it doesn't surprise me.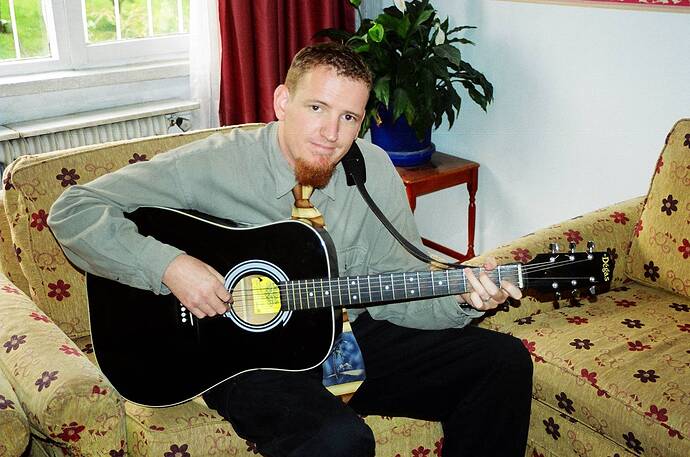 Haha! I can relate. I got off to a decent start, but I always wonder how much faster I would've learned or how much more I would've played if youtube had existed when I was first learning. It's definitely good to have inspiration, whether its the gear, or mentors/teachers!
I love it when people do this!

how much building have you done?
I have completed one acoustic guitar and am currently working on developing a line of electric guitars. I have one that is getting close. There is a lot for me to learn so it is a slow process and unfortunately life gets a little busy so I put it on hold for a bit. now I am waiting for it to get warmer so that I can spray the final finish and then put the thing together and see/hear how it plays. here is a short video of me putting some paint on.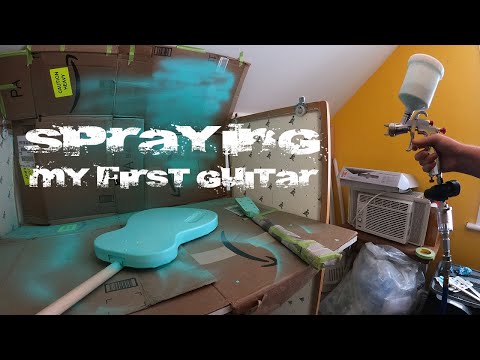 First bass I ever bought was a Fender Precision Bass (Mexican). Purchased in 1998, it's still as good as new, I still have it, and play it regularly. My profile photo pictures me playing it live at a Halloween gig some years ago, dressed as the devil!
This video is amazing!! I'm so excited to see (and hear) the final product

Can't go wrong with a P-Bass! I consider them the telecaster of basses. Super versatile!
First guitar is still my guitar! Bought half a dozen guitars in the past 30 years, and sold them all one by one.
Around 1991 I was going through a tough time, trying to figure out where life would take me, was booked to go to university to do a degree I didn't want to actually do. Around that time my friend asked me to accompany him to buy a guitar. I checked out the guitar, played it a little and out of the corner of my eye was sitting a Yamaha RGX Super Strat, black and shiny. The guy said he was selling it, but me being broke at the time meant I had no chance to buy it. He agreed to sell it to me for 110 pounds, but would hold it for me until I had the money. I ended up getting a job, and with overtime my weeks wages would be exactly 110 pounds! I took that as a sign! I worked my week, withdrew the money and ran to his house. I ran back with the guitar (without a case) and just stared at it for quite a while.
I immediately set about stripping the paint off the guitar, and then carving the square edges round. Basically I was trying to create my own Ibanez JS guitar on the cheap! I removed the middle pickup, and lived with a bridge / neck pickup for a couple of decades. Recently I changed both pickups for the rather excellent Entwistle pickups, which I'll recommend to anybody who asks. I also took the step of installing a Roland MIDI pickup internally in the guitar which lets me plug it into a Roland GP10. Anyone who's taken their main instrument and drilled / chiselled / routed into it will know, it's nerve wracking.
Now how can I describe this guitar? I think every musician (big or small) dreams of that one instrument that is an extension of their hands - and this is what this guitar is to me. I have yet to pick up any other guitar in the world that feels like my own, or sounds like it. Sure, if somebody were to buy me a PRS or a Music Man for my birthday, I wouldn't turn it down. But this guitar is my Red Special, my Lucille. There's no other guitar like it on earth!