…so this little yearly summary popped up on my "Spotify for Artists" app…
I thought it was hilarious, so I posted it on my Instagram account (for all of my 76 followers) with the natty comment: "Did you know you can listen to FytaKyte on Spotify? No? It looks like you are not alone!

"
(BTW, for the uninitiated, FytaKyte is my music project - me and a few occasional collaborators)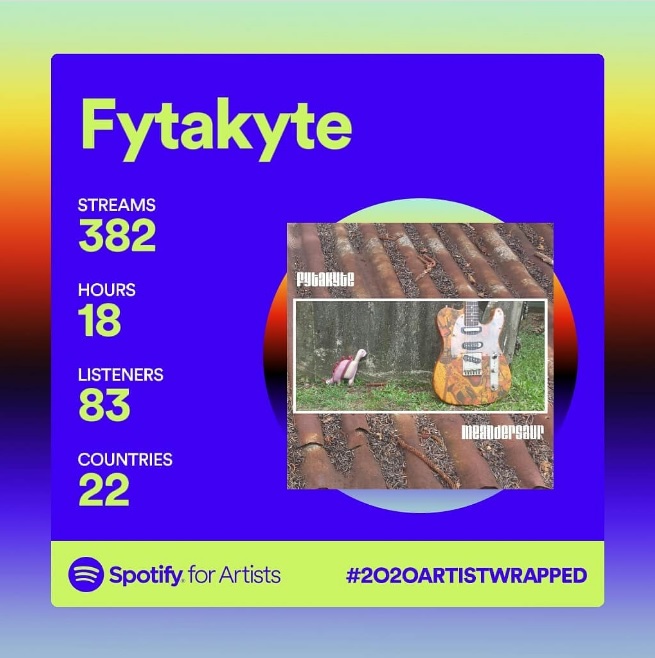 My Sister assured me that her husband was playing my music all morning just to keep me off the streets… To which I replied: "At 0.004 cents a stream, if he keeps it up for a month straight and I may be able to buy a new guitar…string!"
… I checked my aggregator's account the other day, and apparently across all the streaming platforms that my music is on (and it is on them all - Spotify, YT, Pandora, Deezer etc etc) I've racked up a total of about $28 in streaming revenue

I've actually made a couple of hundred from Bandcamp, though - mainly by offering the multitracks for Meandersaur as a bonus for buying the album.
All in good fun… I'm not complaining… In fact, I'm stoked that at least I get to share my music with some people outside my immediate family and friends, and that they appear to listen to it of their own volition.
Anyone else have their music on streaming platforms? Are you doing it seriously? Or are you just doing it for fun like me?