Hello nintendoeats… happy to help out a fellow game audio pro.
So if anyone not from homerecording.com happens to be viewing this, what happened is this guy was trying to filter out dialogue EQ with brutally excessive sibilance that could not be filtered out. Gating was also not an option as it overlapped the dialogue which appears to have caused it to begin with. So even when he placed an absurdly aggressive low pass at 1k with a 100db poll, he was still getting pounded with abrasive 7-20k sibilance. It just would not go away.
The first thing you need to do is see exactly where these frequencies are occurring and at which respective time points. In the second picture below, the white streak at the top is where your 1K filter failed to attenuate static like white noise. My guess is this is because your filter plugin was not equipped to address frequencies over 20k. My monitors go to 30,000 hz, and the spectrum shows that HF information increases instead of decreases as it approaches 20k. That's how you can infer this. You can also see from the spectrograph that the audible problem sibilance is occurring at 5-10k. Though your filter practically a cliff, it still didn't work and left that range remaining. My first step was to engage calibrate the repair parameters and engage the instant process feature on RX advanced. I took care of the 16-30K bleed first.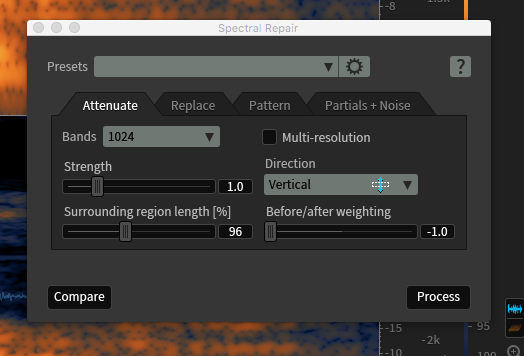 Now its gone.
Knowing that the human ear perceives the vowels in the mid 200 up to about the 800 range, and consonants in the 3k range, I targeted the sibilance here with the lasso tool. What this does it it attenuates is it allows you to bring down frequencies only in one range, only at one time. This is impossible to do in a normal DAW with a music mixing plugin. Below you can see those specific frequencies have been removed.
Same to the first cluster.
Gone. V V
As I move forward you can see the progress log build. To undo you simply click on the previous macro.
Now (below) for the middle cluster, I had to change the before and after weighting. This is not an EQ plugin. You not 'attenuating' frequencies. You are erasing them and having them artificially re-constructed based on the information before and after the lasso'd cluster/blob. The "Band" parameter effects the resolution. This is how many sub-divisions of the selected region are made when the replacement audio is re-synthesized, and the "Direction" determines how far above/below (vertical) or infront/behind (horizontal) the plugin examines to determine how to synthesize the frequencies algorithmically.
Gone.
And here is the last section that had noticeable sibilance.