Organic Drum loops and samples:

On YouTube:

And a plugin!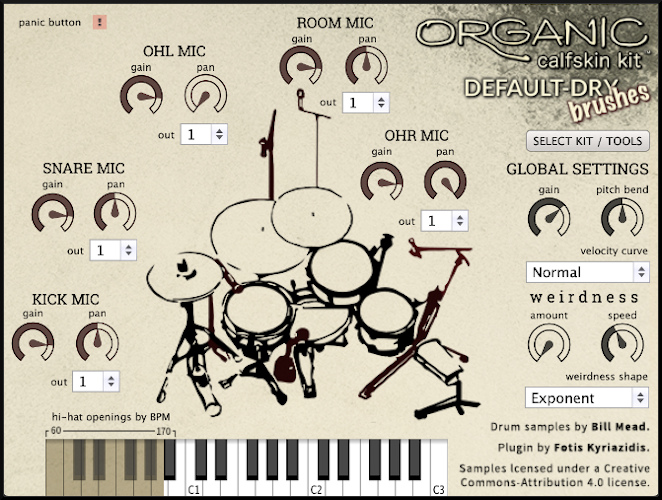 ooh that looks interesting!!
Definitely looks interesting! …even inspiring. I'm looking forward to digging in to this one!
Going to have a wee play myself… need some new shapes to shift from…
I've downloaded the 'Drunk Beats'
Hmmm, think I'm just going to make stuff up and have a play. They are cool grooves and nice tones…
Ooooh there are SUCH cool grooves there (excited grin!)… some lovely calfskin hits with rubber mallets and new 6/8 grooves
yippeee thanks @miked
Looks interesting, but appears to be all wav files rather than midi… At least they have separately mic'd subsets, better than most drum loops do for sure. Hard to give up the full control of midi though… (I started out using drum wavs btw)
I haven't had a chance to play with these yet. There must be a way in Reaper to analyze loops and extract MIDI notes. (?) There is in Studio One. Not saying S1 is better than Reaper or anything like that, but…

Looks very cool! I'll need to check it out.
Hey folks, it's Bill from organic drum loops . . . Emma sent me your way.
As for using .wav files in midi - I asked my buddy Fotis (who built our plugin and helps me with stuff that's too techie for my simple drummer brain to handle) and here's what he said:
" My fave would be ADSR Sample Manager. I've loaded all OGDL loops in there and it works like a charm. It can even auto-detect the BPM and adjust your loops to the project's tempo. It's free, registration is not needed, and it even asks you politely if you're interested in their sample marketplace, giving you the option to simply opt-out and it never bothers you about it again. Seriously, these guys are doing it right. Oh, and it gives you both VST and standalone versions, so you can even run it without your DAW! https://www.adsrsounds.com/product/software/adsr-sample-manager/
TX16Wx is also a good choice. Its free version is enough for simple sample and loop playback, while the Pro version has a few more advanced features (like the ability to play 4096 audio files at once, sheesh!). They offer a cheaper "non-commercial" license, but, then again, the free version already has tons of features tailor-made for loops. http://www.tx16wx.com/
Stay away from Loopcloud, which is the exact opposite of ADSR. Though it's also free, I hate their forced subscription bullshit and the interface which is huge, takes too long to load and litters your screen with their ads. It even forces you to use the VST only when running the standalone version. Blegh. I'm not even going to link to it.
Other solutions include Momentum, which I have not tested that much. It's free, but, again, its focus into sample purchase can be annoying.
Thank you all for your interest in my work. I appreciate you!
global harmony,
Bill
Thanks for dropping by and for all the input Bill. This is a really great looking package you've put together. I'm really excited to start trying it out. I wish you much success!
stay safe.
Mike
Hey cool Mike, no worries. I'm glad we found each other!
Same here, Dave. I have a bunch of old Drums on Demand Loops and a huge collection of Smart Loops libraries. Never use them. I really like the flexibility of MIDI. I use AD2. Good stuff.
A lot of the problem I had with DonD and SL was that the loops were too heavily processed and often just didn't sit nicely in my mixes. And if they didn't, you were hung. Not much you can do about it.
If these loops are less processed, might have some potential.
Hey Bill, glad to hear from you! Great to have plugin devs drop by our humble abode.
Cheers!