I saw this on a facebook post. I couldn't find the same one on youtube. Like the dude too
That link didn't work for me

Yeah I screw up everything as of late. I tried to delete it and of course you can't. typical
It was a very good demo but it was thru a news agency. and of course I couldn't find it on youtube.
Anywho, i messed up again and couldn't even erase it. very upsetting for an old guy. Makes you wanna just hang it up,
No worries at all

I'll see if I can find it
I found it and fixed it. That IS sweet!!
Not sure if I quite understand how they pulled that off yet. I suspect that the fingerboard radius is significantly more curved than a standard electric guitar to allow for bowing, etc. but this certainly captured my interest.
Here is their website. And, yes, those fingerboards have some serious curve to them! bending notes would be an adventure. lol
Wow, I got bailed out again. I am lucky I have found good friends here. I always wanted to be able to have some strings on some of my slower work, but the midi stood in my way. It's just funny I haven't came across this before. thanks much boss, I feel better now
Sincerely
Paul
They look like fun but the prices ($5000+) are way high, think I'll stick with midi!
I'm going to remove strings from a junker guitar I have and try just one string to see how it sounds. Pair that up with Emma's NASA sounds and who knows???
Sincerely
Paul
You THINK you need it? Hmmmmm.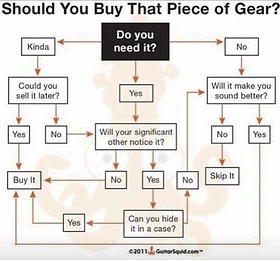 See the interactive version of this flowchart here V V V
https://gamebucket.io/game/4d8941ed-bda2-4602-9b6c-64c3bfe4e1c6
You are aware you spelled congratulations wrong in that game? I wasn't sure if there was any ironic intent there by spelling it "congradulations" or if it was an honest mistake. Rock on, sugar buns.
Oops lol…no spell checker.
I wonder if you could replace the adjustment screws on a strat bridge with longer ones to simulate the curve and just use 4 strings. Bowing a guitar is difficult, and the bow hairs fall apart quickly.
A guitar rocker friend of mine I knew years ago would bow his guitar with his forearm. The sound was eerie and cool
I can't even picture how you'd do that
Summer time - short sleeves - click / flash = picture