One of things I love most about music creation is the unexpected avenues you can find yourself heading down, whether that be on a solo journey or a collaboration, and this little project I'm currently playing around with is no exception.
I'd just recently been made aware that Image-Line had released a beta version (21.1.99) of FL Studio, and contained with that version is the ability to separate a stereo mix into individual 'stems'. In the case of FL Studio it's possible to separate into 4 groups of vocals, bass, drums and instrument tracks/stems.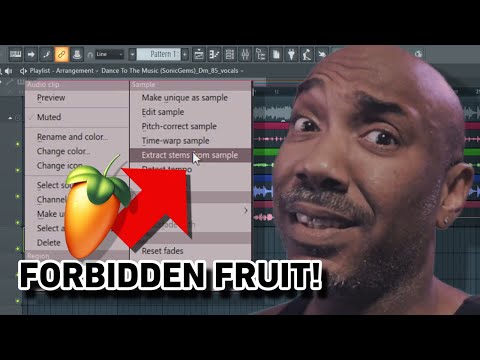 Having had a bit of previous experience playing around with these types of tools (mainly Rip-X), I was acutely aware of the limitations surrounding this technology, so with that in mind, in an effort to give this a thorough workout right from the get go, I needed the crappiest piece of audio I could find to throw at this thing, and that's where a song (Primary Infection) off my old bands first album written way back in 1999 came into the picture.
I'm (naively) thinking in the back of my mind, if by some miracle this separation procedure does a reasonable enough job of our shitty recording maybe there's some way I can rework the production and attempt to make it sound a little less err… shitty.
Having consequently put the bands master cd's in a "safe place", (never to be found again) and no ability to rip an uncompressed file to work with, the only source files I had available were 128k mp3's so I was instantly starting on the back foot, and quietly knew there was little or no chance of ending up with anything remotely usable, which ultimately turned out to be the case.
'Primary Infection', original 1999 recording. (Warning, It's really, really bad haha)
FL Studio Separated 'Primary Infection' stems, snippets:
Drums:
Bass:
Instruments:
Vocals:
By comparison here's an uncompressed .wav file of Alice in Chains 'Would'. While the final separations are a long way off perfect with a lot of audible artifacts (e.g If you listen to the guitar track you can hear the level ducking at the exact moment a snare hit would be occurring) I think it demonstrates that the quality input source material is paramount in achieving a decent sounding stem.
Drums:
Bass:
Instruments:
Vocals:
So after being a little disappointed, but not really surprised at the results of extracting the stems from our old metal tune, I ended up jumping in feet first and decided to re-record my guitars, as well as add a few new parts, which then lead me to hiring a drummer to completely redo the drums, which he managed to play exactly over top of our old "off-grid" un quantized original recording, amazing.
Side note:
One very handy aspect of extracting stems from a stereo recording is the ability to learn and work out certain parts that might otherwise be buried or obscured within the mix.
So I was able to pretty well figure out the basslines and have since rehired a dude I used on my last song to lay down some beautiful fresh bass tracks (still waiting on those).
It looks like I've also got the original singer back on board to redo his Cookie Monster parts as well so it looks like it's going to be a top to bottom rebirth of an old track written as kids all those years ago.
This is the current mix version I'm at now with brand new guitar tracks, brand new live drum tracks, my crappy midi bass reference (soon to be replaced) and the original 1999 vocals (soon to be replaced).
It really does go to show how a poorly performed and produced song can sound sooo bad, and yet that exact same song with a little bit of reworking and some extra knowledge gained over 24 years can be transformed into something pretty cool.
Will have to continue this over on the 'Bash This Recording' page once all the elements come in.
Cheers.