Okay. Here's edition #2. Sorry for the delay. Been swamped. More Cool Things You Can Do in REAPER…
This is a simple one. I posted something on this a while ago, but to many it might be still unfamiliar.
One of REAPER's strengths is how easily configurable it is. Routing possibilities are endless, of course (touch on that another day). But a pretty cool thing in REAPER is how easy it is to change it's entire look. I don't do this myself, but there are scores of people that design "skins" for REAPER (Cockos calls them "themes") to modify the interface itself. Some are esoteric, others copy the look of ProTools, or Logic, or whatever.
Themes/Skins can be downloaded from the REAPER stash website: https://stash.reaper.fm/tag/Themes
(BTW, that site has tons of cool REAPER stuff: reverb impulses, FX presets, project/track templates, sample libraries, etc. That's another day as well!).
The idea is you just download a theme (extension is ReaperThemeZip, as in: WT_Imperial.ReaperThemeZip). Double-click it and it will install and show up under your Options menu.
There are several decent ProTools themes. This is one of the more popular ones -
Albert-C (Pro x-tools V1.0.1) MOD: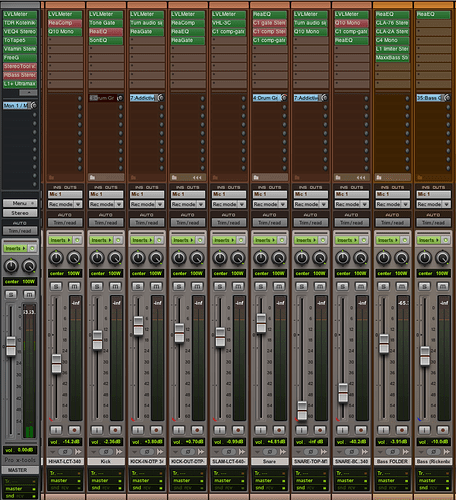 This is a decent theme as well. Very polished, nicely laid out (Imperial):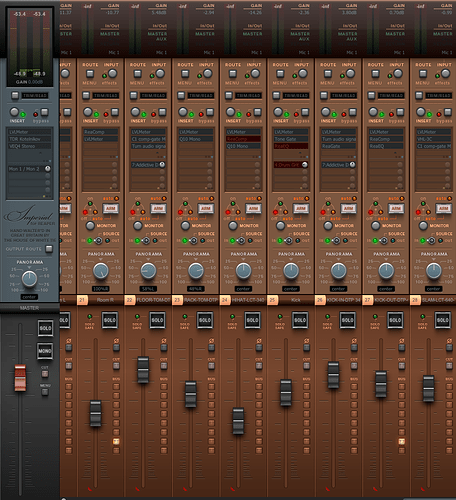 And, finally, Rado V4 Basic (this is my default, the one I use):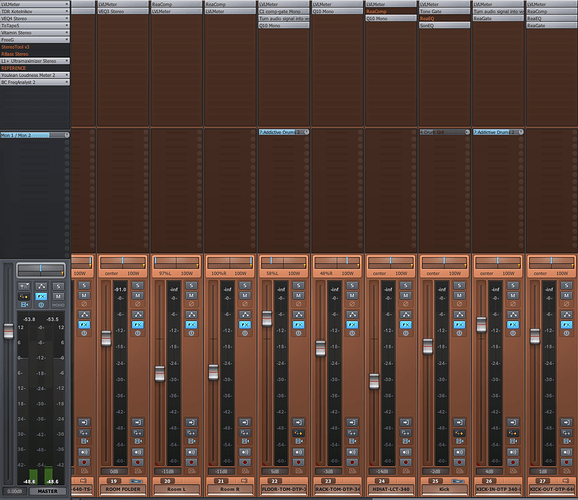 Really, any of these look TONS nicer and are easier on the eyes than the original, default REAPER layout, which looks kind of lame. That's the one you'll often see on video tutorials. There are many that showcase how polished this DAW is.
Another cool thing is that you can save your layout as a screenshot which loads your setup automatically. Go to View > Screensets/Layouts.
So if you have a favorite layout of your windows, certain plugins you want to have open, placement of screen elements, save and load those here. This can include your theme/skin, sizing of tracks, etc. You can make it available only in your present project, or in all projects. Timesaver. You can save up to 10 and assign keystrokes to draw any of them up at the touch of a button.