Hey @bozmillar
In order to come up with THE name for your new plugin, I feel it might be good to gain a better understanding of what your plugin does. So, if you don't mind, I was wondering if you could answer a couple of questions about Clippy? (Probably stupid ones at that.)
Behold the new plugin!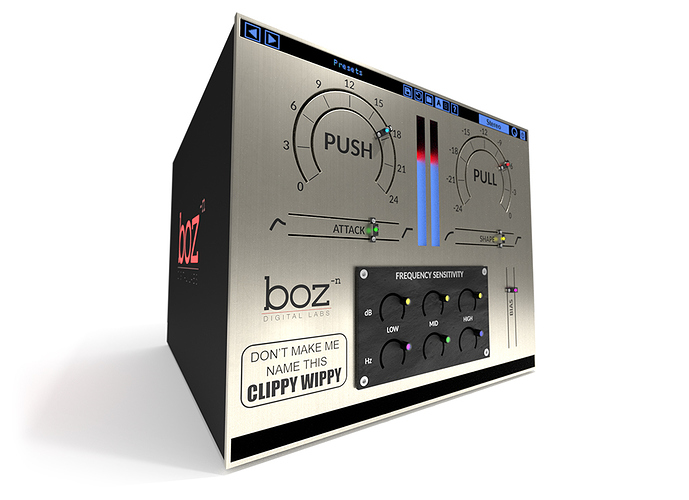 Your description states:
"Clippy Wippy is sort of a hybrid clipper/limiter. It lets you dial in the clipping and limiting flavors in just the right way to match your content."
First off - cool idea! Now to the questions…
Is Push the limiter/compressor and Pull the clipper?

The Attack slider under "Push"? Is this the attack speed for the limiter part of the plugin? Does it affect the "Push" immediately above it?

The Shape slider? Is this for Hard vs Soft clipping? And does this affect the "Pull" immediately above it?

What does the "Bias" slider do?

Where is the "Blend Control"? I'm guessing blending is the combination of the Push/Pull but I just want to clarify this. (I can't help but wonder if you're using your mysterious "Loud Relief" algorithm on the limiter/compressor section of this plugin. )

Gorgeous and clean interface - love it! (Not a question.)
Congrats on another creative plugin - well done!
Thanks!