Hi guys,
So a present just came falling out of the sky. My mom decided to invest in me by sponsoring my start up. I'm not going into details on how this came to be, but lets say I didn't always make the right choices to get the future that I wanted nor did I know what they where, so I'm at a place where I gladly accept this gesture.
So now I got 10k€ to invest in treating my basement and getting additional gear I still lack for making full band recordings. I'm going to list what I already have and plan to buy below and edit it along the way, so for those ho want to follow this thread its easy to get an idea what the current state of affairs is regarding this project.
The goal, is to get all I NEED to be able to complete a bands recording and mix with a proper result. So knowing that probably the most money will go to construction, I really need to sort out what is essential, and what is rather optional or negligible.
For those who are interested, I'm going to try and keep as much details of how I'm making things and where I'm spending my money into this thread and maybe make a compact summery of design and expense/materials list. So feel free to share your knowledge and ideas for this project.
---
Location:
Concrete basement 10x5x2.63m (meters) (32.8x16.4x8.6 foot)
This is a sketch of how I'm going to arrange the spaces. I'm not going for a separate drum room since it already not a a BIG room. So I'd prefer to optimise for a good mixing room and sacrifice a bit on the live room. Te ceiling is 2.63m so its not like I have a fantastic room for drums anyway.
The elevator is going to be made from an old forklift mast if I can find one. And I'm going to tow it up and down with a hoist. The platform will just be simply out of wood since its the lightest and cheapest solution. I'm going to fill it up with isolation and gonna make it so that when I close it (tow it all the way upp), it will close the ceiling off as if there was no hole. This way I don't have any stairs making my acoustics even more difficult and I'm left with a rectangle room. I WILL make a cab room though, since its pretty handy to have a little isolation booth for some stuff. In the best case I can also use it as a vocal booth.
The thing I'm not sure about and could use some opinions on is the back wall where I mix. I wonder what benefit of making slanted walls and building the speakers into the wall (of course not touching the wall) On my mix position you can see some lines that indicate the triangle for speaker positions. Perpendicular to the I drew lines that indicate where those walls could be. Any thoughts ? Its not gonna cost me that much more, only more work, so if the benefit is substantial, I don't mind making this. its also super fancy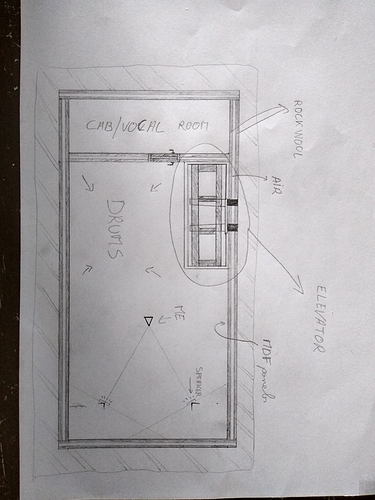 Current gear:
PC (details maybe later but strong enough for large projects)
Sennheiser HD650 (+ sonar reference 4)
DENON pma-1060 (amp)
B&W dm640i (speakers)
Cubase 10 pro
Presonus studio 1824c
1x sm58
9x sm57
Peavy EVH 50watt
Rivera knucklehead KR7
Trace Elliot g12 SMX
Fame CAB vintage 30
Budget: 10.000€
Gear wish list:
299€ - kick mic: Shure beta91A
559€ - vocal/drum room mic: Shure KSM32 (for vocals and mono room in front of kick)
? 319€ x2 - Overhead/multiple use mic: Shure SM27 (large diaphragm)
? 355€ x2 - Overhead/multiple use mic: Shure SM81 (small diaphragm)
350€ x2 - multiple purpose mic: RM-6 Ribbon mic DIY kit
50€ - RE-amp box: L2A DIY kit
200€ - Used presonus digimax (used from a friend)
544€ - Speakers: Yamaha HS8
Subtotal: 3700€
Construction materials:
± 800€ MDF panels
± 500€ timber
± 1000€ rockwool
This is as fat as I'm getting today. I'm gonna update this post as much as I can. As soon as I start construction I'm gonna ad a separate thread just for photo's of something.
If you got some information or knowledge that could help me prevent making stupid or unnecessary expenses please share them in here. Other suggestions for the mic's are also welcome.
This could also become an interesting threat for other people who are planning something along these lines in the future.
Thanks in advance, and hope to hear from you guys soon.